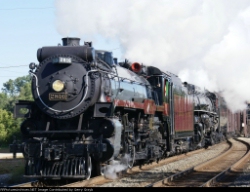 Welcome to the RRPictureArchives.NET contributor site of Gerry Grzyb.



I have been photographing trains since the mid-60's, off and on. I began with a Nikon F and a Weston Ranger 9 (you're old if you remember them), and now use a Sony Alpha 100 DSLR until I can get Sony's soon-to-be-released pro DSLR. My initial hangout was Sturtevant, WI in the evening, where I'd see the Hi, the Pioneer Ltd., the Copper Country Ltd., all-mail #57 (fastest of them all), time freights like 263 and 264, and the Racine patrol (local). Now I pretty much limit myself to chasing steam, and I don't travel very far.

I used to have what was America's most active steam locomotive audio recording company, Whistlin' Dixie Productions, with recordings of 4501, 610, 2839, 611, 2716, 765, 3985, 1522, and 261. The Mid-Continent Railway Museum in North freedom, WI also sold recordings I made of their steamers. Unfortunately, I could not engage in photography while making the recordings. But I had cab rides in some incredible locomotives, the most memorable being Bellevue, OH - Brewster in Gary Bensman's wonderful NKP 765.

I just came back from watching 261 and 2816 doublehead along the Mississippi. Man, do we owe a debt to those who maintain steam!

UPDATE: Yesterday (August 16, 2008) I rode in 261's cab from Milwaukee to the Dells. That is simply the most excitement any railfan can have--60 per with Hiawatha cars behind, what a time machine!



You may browse my collection of pictures via the menu located on the left hand side of the page. I hope you enjoy the collection and thanks for stopping by!